Welcome to Fine Art by Robert Jackson! Robert Jackson specializes in creating unique and beautiful works of art that illustrate the essence of your family and your memories. Robert Jackon's custom artwork and custom portrait drawing services help capture a moment in time through artwork that you will cherish for a lifetime.
Robert Jackson is a talented artist that specializes in acrylic paintings, graphite pencil drawings, and more — making his portrait painting skills the best in Arizona. He is sure to create a portrait of your loved ones that is full of detailed shading, and textures, and depicts even the most minute details brilliantly. Whether you're looking for a way to preserve your family and friends in a graphite drawing or would like to commission custom artwork for your home, contact Robert Jackson for a pricing estimate for his custom artwork services!
Are you looking for a special way to commemorate your family? A custom portrait is a perfect way to capture the unique bond that exists between family members. Robert Jackson's custom portrait services portray special moments that you share with your loved ones. For Robert, creating beautiful pieces of artwork that show the true essence of your family is one of the most rewarding experiences. He specializes in custom portraits and will create a piece of art that your family will cherish for generations.
Robert Jackson's custom portraits are done in graphite pencil, allowing him to create a portrait that truly captures the likeness of your loved ones. The custom portrait process is simple — mail your favorite photo to Fine Art by Robert Jackson, and he will begin the portrait process with the chosen photo as a reference. He will work with you throughout the process to ensure that the portrait matches your vision and that you're completely satisfied with the result. Give A Personal Gift With A Custom Painting
Capture the Occasion
Custom portraits are the perfect way to commemorate special occasions you share with loved ones. Share the memories made when you gather with family and loved ones with a custom portrait from Robert Jackson. Whether the custom portrait will be a gift for a loved one or something the family will share forever, he specializes in bringing those special moments to life on canvas. Occasions Robert Jackson specializes in recreating through custom artwork include:
- Birthdays
- Holidays
- Father's Day
- Mother's Day
- Graduations
- Weddings
- Memorials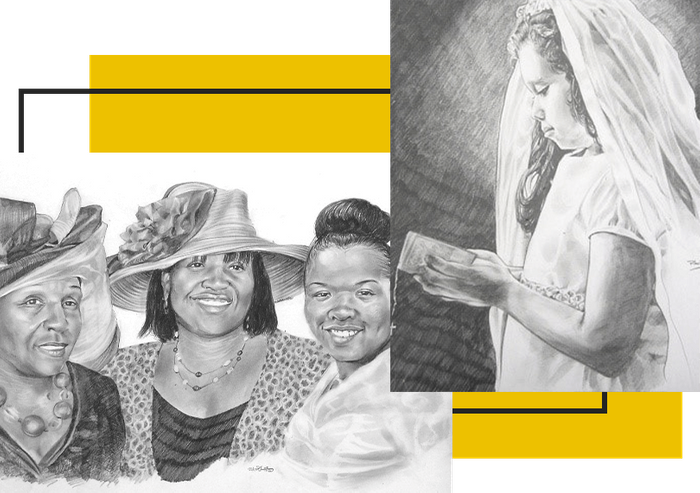 Robert Jackson can create custom portraits for a variety of themes. No matter who you wish him to draw or paint, the portrait will look lovely hanging in your home. The themes Robert Jackson specializes in for his custom portraits include:
Parents and Children

Grandparents and Grandchildren

Couples

Individuals

Pets

Weddings

Celebrities
Custom Artwork
Interested in custom artwork in Arizona for your home or business? In addition to his amazing custom portraits, Robert Jackson can also create custom artwork based on your request. You can choose from graphite pencil drawings or unique paintings for your commissioned piece. Browse Robert Jackson's previous custom artworks for a better understanding of his style.
How Our Custom Portrait and Artwork Process Works

You will be notified when he has received the photo and is beginning the process.

Your custom artwork is ready! The finished custom portrait or custom artwork will be emailed to you for your approval.

Your custom artwork will be delivered to you. Robert Jackson offers framing options for an additional cost if you would like to receive the artwork ready to hang.
Contact Robert Jackson
A custom family portrait is a beautiful way to capture special occasions and commemorate your family's unique story. Choose Robert Jackson's custom portrait services and custom artwork to create a lasting piece of artwork that will be cherished for years to come. For more information on custom artwork pricing, please contact Robert Jackson for a consultation.