How Much Does a Live Wedding Painting Cost?
How Much Does a Live Wedding Painting Cost?
If you're looking for a unique and memorable way to capture your special day, there's no better option than hiring a live wedding painter to depict the magic. Live wedding painting is an exciting new trend that allows you to have a beautiful, one-of-a-kind painting created for your ceremony or reception in real time. Not only does this enhance the overall experience for your wedding, but it will provide you and your partner with a stunning piece of art to memorialize the moment you began your lives together.
It's no wonder why hiring a live wedding painter is such a popular choice these days — but how much does it cost? Continue reading below to learn about the various factors that affect the cost of a live wedding painting, as well as the pricing options available from Robert Jackson Fine Art in Arizona.
Artist Experience and Expertise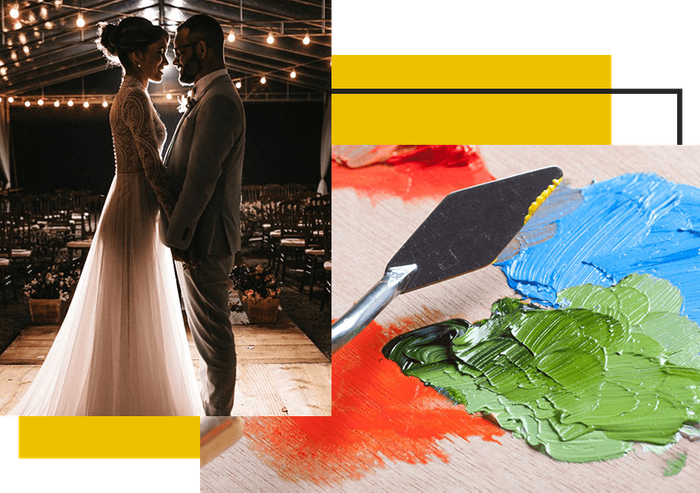 The first factor that can affect the cost of a live wedding painting is the skill and prestige of the artist. An experienced artist who has painted many weddings and has a strong portfolio will generally charge more than a beginner. This is because more skilled artists can create a more detailed and accurate painting within a shorter amount of time. Additionally, a well-renowned artist may have a higher demand for their services, which drives up the cost.
At Robert Jackson Fine Art, our live wedding painting services in Arizona are provided by Robert Jackson himself, a professional artist with over 40 years of experience. With his fast-paced art style, Robert can capture the essence of your special day with striking accuracy and detail. To get a sense of his work, take a look at his gallery!
Painting Size and Style
Another major factor that can influence the cost of a live wedding painting is the size and style of the painting. Larger paintings generally cost more, as they require more time and materials to create. Furthermore, some artists may raise the cost for certain styles of painting, such as impressionism or realism.
To make sure you get exactly what you want from your live wedding painting experience, Robert Jackson Fine Art offers a range of painting size options to fit your budget. Whether you want a painting of the first kiss, the first dance, or any other remarkable moment, Robert will work with you to choose the best size painting for the occasion. As for style, Robert specializes in a distinct and charming art style that he has perfected over the years, using either acrylic or watercolor paints.
Wedding Location and Travel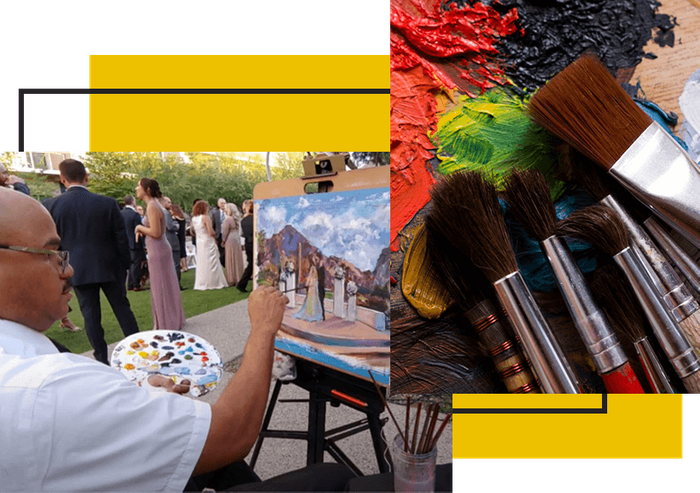 The location of your wedding can also play a role in determining the cost of a live wedding painting. If your wedding is in a remote location or requires a significant amount of travel, the artist may charge more to cover their travel expenses and time.
Robert Jackson Fine Art is based in Tucson, Arizona, but Robert is always willing to travel! As long as you cover his travel expenses, Robert will arrive at your wedding with an easel and brush in hand, ready to create a painting that immortalizes your once-in-a-lifetime event. To receive an estimate for our out-of-state live painting services, please contact us today!
Additions and Alternatives
Finally, some artists may offer additional services that can alter the total cost. For example, some artists may provide framing or other finishing services to ensure that your painting is immediately ready to display in your home.
If you would like any special arrangements made for your live wedding painting, all you have to do is ask! Robert has accommodated weddings and requests of all kinds, even going so far as to paint the ceremony and reception in one night. Alternatively, if Robert can't make it to your wedding for any reason, he would be happy to schedule a custom portrait session with you and your newly-wedded partner.
Contact Robert Jackson
At Robert Jackson Fine Art, we pride ourselves on offering competitive pricing for our live wedding painting services in Arizona, along with exceptional quality and personalized service. Our live wedding painting prices start at $1499.00, so we encourage you to contact us to schedule Robert for your special day!