An Experience of a Lifetime

If you're looking for a unique and memorable way to celebrate your upcoming wedding or event in Arizona, look no further than a live wedding painting by Robert Jackson Fine Art. With his expert skills and quick thinking, Robert is able to capture the essence of your special day on canvas in real time, creating a one-of-a-kind work of art that will serve as a cherished family heirloom for years to come. Learn more about this great opportunity to memorialize your wedding, then contact Robert Jackson to schedule him for your next event!
Once the booking form is complete, you will be contacted to schedule a consultation meeting with Robert Jackson Fine Art. This meeting will be an opportunity to lay out your vision for your live painting and secure your date with a booking fee of 25% and contract for terms and agreement.
After the date has been reserved and the vision of your painting has been mapped out, there is only one thing left to do: Step back and enjoy one of the most important days of your life!
Robert Jackson will arrive at the venue approximately two to three hours early to set up, which typically includes a portable wooden easel and his painting supplies. The objective is to blend in with the ambiance of your day; "live painting" should never be an eyesore or distraction. During the time prior to the scheduled event, Robert will focus on laying out the overall design and composition of the painting, such as the décor, building structures, and background. This will give your guest a preview of what's to come as they arrive.

Upon completion of your painting, it will be framed and displayed for final presentation to the bride, groom, and guests.
The Benefits of Having a Live Wedding Painter

The Benefits of Having a Live Wedding Painter can add a unique and memorable experience to your special day. Their work will capture the energy and emotion of the event in real time and provide a beautiful, tangible piece of art that you can keep forever. Live painting can also make for some fun entertainment during the reception, as guests can watch the artist in action and have the opportunity to mingle with the painter.
The Art of Live Wedding Painting

Live wedding painting is different from traditional painting in many ways. It requires a painter who is extremely fast, makes quick decisions, and is comfortable with a live and engaged audience. Robert Jackson is one of the live wedding painters in Arizona who can consistently capture the emotion, beauty, and energy of your special day on canvas. His fast-paced painting style ensures that he can keep up with the festivities of your event and still produce a stunningly beautiful painting that captures the spirit of the day. To ensure he gets all the details just right, he will arrive at the venue two to three hours early to establish the background of the painting, capturing the decor, buildings, and scenery.
How to Prepare for Your Painter
Once you've decided to hire Robert Jackson for your wedding or event, there are a few other steps you'll need to take to ensure the painting goes smoothly. Discuss the size of the painting with Robert and make sure you have space for him to work in the venue where he will be visible to guests but not in a way that is obstructive. You should have an overall theme or feeling in mind that you'd like the painting to convey, such as romantic, whimsical, or energetic. You could also discuss a specific moment you would like captured, this could include:
- Walking Down the Aisle

- Exchanging Vows

- The First Kiss

- Cutting the Cake

- The First Dance

- Raising a Toast

- And More
Styles Vary From Painter to Painter

Studio Paintings/Drawings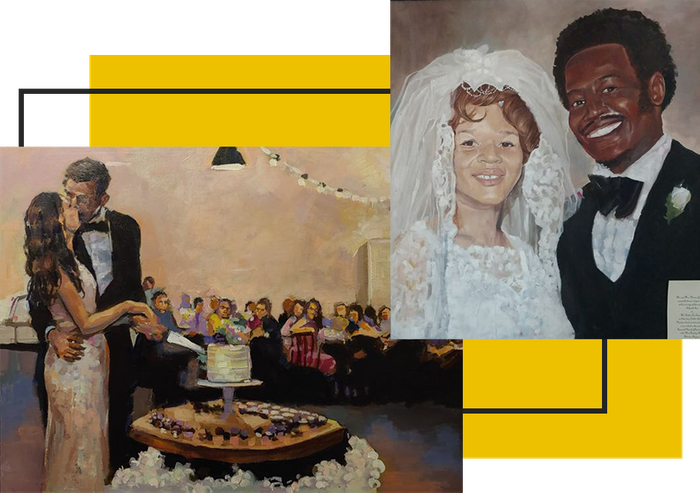 By now, you may already be envisioning what your wedding painting will look like, however, it is important to remember that every artist has their own unique style. This means the image you are imagining may not line up with the final result. Before you hire Robert, take a look at his portfolio so you can get an idea of the kind of art he produces. This will give you a better understanding of what to expect and ensure you are comfortable with his approach before you make a final decision.
Price List
Live Wedding Painting prices start at $1499.00. Please contact us for a consultation.
This cost includes all supplies needed to create the painting, completed to your satisfaction – varnished, wired, and ready for pickup! We understand that schedules do not always work in our favor. Please consider our Studio Wedding Portraits for other options
Contact Robert Jackson
Live wedding painting is a unique and memorable way to celebrate your special day. Robert Jackson is an experienced and talented wedding painter based in Arizona who is capable of capturing the spirit of your event in real time. Contact him today to discuss your vision and schedule him for your next event.
Frequently Asked Questions
How Long does the artwork take?

Acrylic paintings require me to set up before the event, so I can get in a full 5 hours to finish the work. No matter how long your event is, however, I will make sure the artwork is completed and perfect before you receive it, even if that means an overnight trip to my studio. Every now and then I run across an evening so complex and crazy that it needs more time, or an unexpected time crunch.

What materials do you use for the artwork?

Acrylic paintings are created on stretched cotton canvas with Golden artist acrylic paint and Winsor & Newton professional acrylic paint.

Does the artwork come framed?

The acrylic paintings are finished on a canvas that you could potentially hang on your wall, the minute you get home. It's up to you how/if you want to frame them. The watercolors will require framing, for the artwork's protection from damage and for proper display.

Do you need the venue to supply anything for you?

I bring all my own supplies, including my easel, a light to see by, and a water jar. All I need is a place to get water (which is never a problem) and an electrical outlet close by, in case I need to plug in my light.

Are you willing to travel?

Of course! If the drive is over two hours from my home-base of Tucson, AZ, I only ask that my travel costs be covered by the client. If the venue is out of State, the client must provide a plane ticket, and a hotel room for one night if I can't catch a red-eye after the event is over.

I want you to paint my wedding ceremony, Is that an option?

Absolutely. I'll set up and start painting before the ceremony starts, work during the ceremony on your precious faces, then finish the painting during dinner, so people can watch the creation in real time.

Can I have the ceremony and reception painted?

If the ceremony is long (longer than 15 min) and the venues of the ceremony and the reception are less than a mile apart, then I can paint two paintings on your big night. This is a rare and difficult thing to do, so I have to discuss the venue and timing with each individual bride before I agree to this particular package. Sometimes there simply isn't enough time for me to start and finish the ceremony painting, travel to the reception, and start and finish the reception painting too. I want to make sure every event painting is perfect!